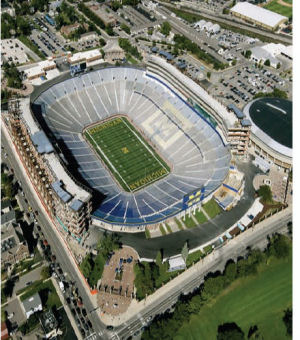 The Big House (Michigan Stadium) in Ann Arbor, Michigan is home to the Michigan Wolverines. The 400,000-square-foot addition included two multi-story steel framed structures on both the east and west sides of the stadium with a total of 8,500 tons of structural steel. The structures, which stand 10 feet higher than the current scoreboards at their highest point, include 83 suites and 3,000 club seats. When the renovations are complete, the capacity of the Big House will top 108,000.
Total Steel Savings - $14,000,000
Initially The Steel Construction Group was brought into the project to do a full estimate and analysis of the steel design and cost when original bids had resulted in a low bid of approximately $44 million, almost 50% over the steel budget that had been established at approximately $30,000,000.00 in place. It was hoped by Barton Malow and the Owner that SCG would be able to make a determination of whether the problem stemmed from "heavy" design or just a bad budget.
At the end of an intensive 3-week period preparing the estimate, SCG arrived at a budget of $29,500,000.00 which was even lower than the original steel budget. After meetings with the Owner and Barton Malow, it was decided that the engagement would be extended with their new scope to include developing and implementing a "Steel Procurement Plan" that would include Owner-procured 3D Modeling and preparation of shop drawings combined with rebidding, possibly including off-shore procurement of the structural steel.
Within a few days of beginning this process and at the request of the Owner, SCG refocused their thinking toward how to recover the budget while involving even more local firms than in the original bid process. In the end the final "Steel Procurement Plan" resulted in the Owner pre-buying raw materials but not becoming involved with the 3D Modeling or Detailing. What had been originally a one bid package became 3 smaller bid packages for steel that were much more palatable to the local steel contractors. While this required more coordination for Barton Malow, they had a strong, experienced project team led by Mr. Neal Morton and were able to manage the process without additional personnel.
The Owner's final total cost for steel when the second bids were received was a total of approximately $29,600,000.00 with no delays to the original schedule and no redesign required of the Engineer of Record.
Back to Program Management
Click here to download a pdf file about projects The Bow, The Big House, UCMC.

Principals in The Steel Construction Group, llc. have spent their entire careers in steel construction and, by doing so, have acquired "hands on" experience that can only be gained by working in the steel industry. They are widely known as dependable steel contruction project consultants.